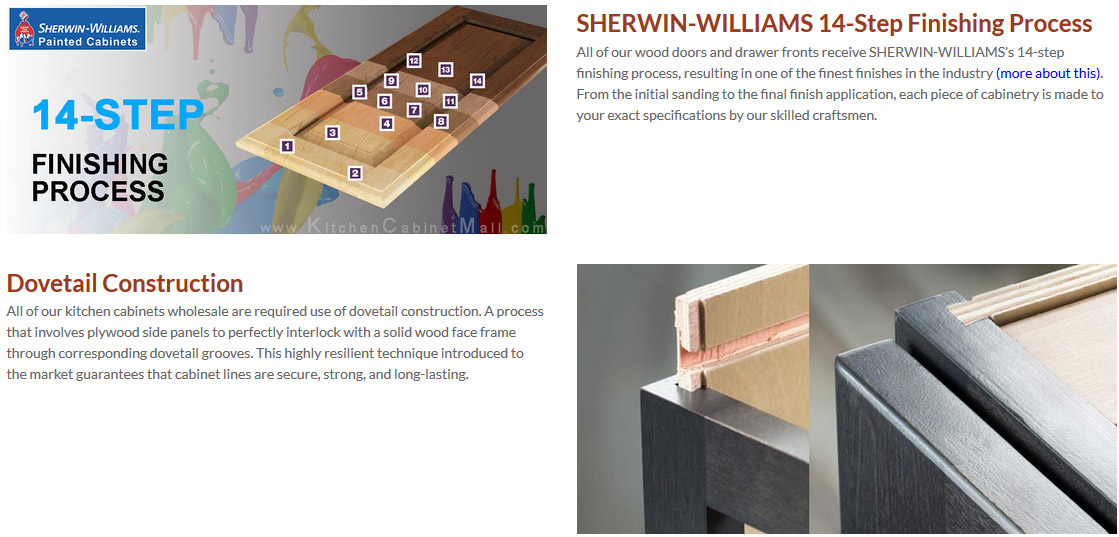 There are many reasons that white is the right choice for kitchen. White kitchen cabinets provide room-brightening backdrops that complement an array of colors, patterns, textures, surfaces, and decorating styles. Consider colorful small appliances, like toasters or mixers, to add some personality to a kitchen design featuring white cabinets.
Additionally, white cabinets are effective at making smaller kitchens feel bigger. Another advantage of white kitchen cabinets is that they can help to make kitchens—in many cases small, efficient spaces—feel more expansive.
Introducing White Kitchen Cabinets
When it comes to kitchen cabinets, there are so many options to experiment with. But the two major styles include the Shaker and the Raised Panel cabinets. Interestingly, the look of each of these cabinets can be enhanced by painting them white.
White kitchen cabinets in farmhouse style can have warmer feeling than industrial or modern kitchens, White shaker cabinets are generally preferred for their elegance and simplicity. These cabinets mainly feature basic hardware, recessed door-panels and light finishes. Just as their name implies, White Shaker kitchen cabinets were designed and popularized by the Shakers movement, whose history dates back to the early 18th century. That already speaks volume of the timelessness of these cabinets. The Shakers were are famed for their skills in craftsmanship and attention to detail.
When designing white shaker kitchen cabinets, the Shakers placed more focus and emphasis on utility as opposed to aesthetic appeal. This is why you will discover most features of shaker-style kitchen cabinets are not so enhanced. The most common material with which these cabinets are built is hardwood, though some designers now incorporate veneer panels especially in the doors and drawer.
Selecting a bright white with shaker style cabinets and white subway tile is the perfect look for a modern cottage.
In order to bring out the simplicity of white shaker cabinets, all hardware such as handles and knobs are wooden, and must be hidden.
As the name suggests, raised-panel feature cabinet door styles with a center panel that's raised with a contour or profile. Unlike Shaker style cabinets, raised-panel kitchen cabinets blend well with both the traditional as well as the transitional designs. As we have already mentioned, you can enhance the look of your kitchen cabinets by painting them white, regardless of the style. And that's where the idea of white kitchen cabinets come in.
Why Paint Your Shaker Kitchen Cabinets White?
Modern style kitchen is often marked with simple design, while white is the perfect color to have that timeless look, white kitchen cabinets have become the most popular paint color.
Simplistic Look - White as a color is preferred for its simplistic clean lines and basic look. And as we have already mentioned, the underlying idea behind adding Shaker cabinets to your kitchen is due to its simplicity. If you are a simple, frugal person, you will surely do well with white cabinets in your kitchen. And even better if the white cabinet is one of the Shaker cabinet style.
Timelessness - White also enhances the timelessness of kitchen cabinets, more so the Shaker-style cabinets. As you probably already know, the Shakers first designed their kitchen cabinets when there were very few colors to experiment with. Perhaps all that they had at their disposal were black and white colors. They couldn't go for black due to the obvious reasons of poor light reflection in the kitchen. This explains why white was their choice color, white is indeed the right color to complement your white shaker style cabinets.
Think color reflection. As the cabinets are already simplistic in design, you need a mechanism to enhance their look, and white painting is one way to do that.
When it comes to painting, white is probably the most effective color for creating a distressed finish.
Ease Care and Maintenance - White kitchen cabinets have a tendency to show wear and tear more easily than darker colors and tend to require a bit more maintenance. When it comes to care and maintenance of a kitchen cabinet, no color makes the job a breeze than white color. With white cabinets in your kitchen, you can easily spot stains on the cabinet and blot them out before they permanently set in. Any slight discoloration and blemishes can be noticed immediately and cleaned thoroughly. Thanks to the white painting, your kitchen cabinet will not have to get very dirty before you can take action. Regular cleaning will go a long way in preserving the old, elegant look of your cabinet.
Large Space Illusion - Last but not least, white kitchen cabinets are preferred for their ability to create an illusion of space. You might consider white cabinets if you have a rather small kitchen but want it to look larger. White enhances both the height and the depth parameters of space, making your kitchen look larger than it actually is.
White kitchen cabinets are at the top of the request list when it comes to kitchen cabinetry colors.
White kitchen cabinets in farmhouse style can have warmer undertones than industrial or modern kitchens, with cream matte finishes instead of shine.
White cabinets create a light, welcoming feel and are a stylish choice that can brighten any style of home.
Where Can You Use Your White Cabinets?
The best part about white cabinets is that they blend seamlessly with any other color in your kitchen.
White cabinets also go well with kitchens of any style; be it a contemporary or a traditional one.
They will especially blend well with light granite countertops and stainless-steel appliances.
Looking Out For The Best
Are you excited about getting your own white kitchen cabinets? How about you give our furniture a try?
When you purchase from us, you are assured of 100 percent hardwood for maximum durability of your cabinets. Our designers see to it that all the fundamental features of your ideal cabinets are incorporated in every piece of kitchen cabinets we sell. You will also find us responsive enough to take your orders or queries and address them with the urgency it deserves. Last but not least, we offer flexible pricing plans depending on the size and detail of the white kitchen cabinet you go for.
Feel free to give us a call at 323-319-2818 to buy ready to assemble cabinets, SHERWIN-WILLIAMS painted white shaker cabinets with soft closing hinge, full extension glides.