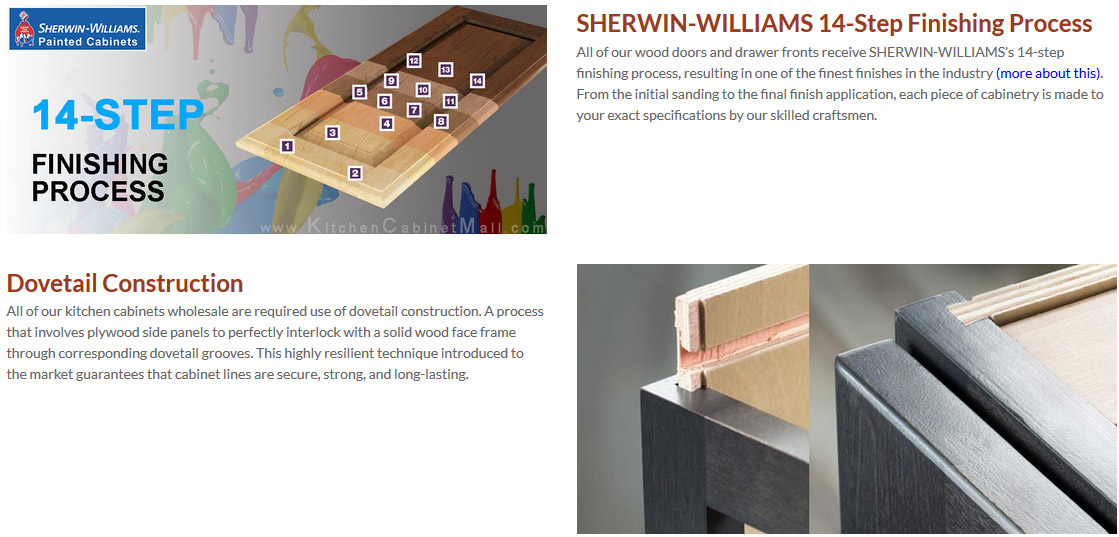 SHERWIN WILLIAMS KITHCEN CABINETS.
At US Kitchen Cabinet Mall we use only the finest quality wood stains and finishes from Sherwin Williams Industrial Wood Division and their partners:
Our Standard Finishes:
SHER-WOOD® KEMVAR® Plus Conversion Varnish

is a high solids catalyzed wood finishing system with full hiding opaque colors. It offers outstanding quality for furniture, cabinets ( NAMED SHERWIN WILLIAMS Kitchen Cabinets ) and other interior wood products.

SHER-WOOD® Water White Conversion Varnish

is a catalyzed wood finishing system providing water white clarity and excellent resistance to yellowing. It is recommended for use over white, pickled, and light color stains where good resistance to yellowing is required.
Our 2K Polyurethane options
Born in Italy from innovation and passion, Sayerlack® has been providing the most innovative and highest quality finishes for wood since 1954. With a commitment to research and developing new technologies, Sayerlack wood finishes are designed to enhance the beauty of wood products with an unsurpassed level of protection and durability. These wood finishes provide a premium finish to protect and enhance the beauty of your products.
SAYERLACK® TZ88 Pigmented Polyurethane Coat

is a polyurethane topcoat characterized by uniform matting, smoothness to the touch and good surface hardness. It is particularly suitable for non-yellowing systems and for application to tinted substrates.

Sayerlack® Premium Polyurethane Clear Topcoat

is a high performance, 2K solvent based polyurethane topcoat recommended for the general interior woodworking market. This finishing system displays excellent system clarity, fast dry times and very good vertical hang along with excellent flow and leveling characteristics. It passes KCMA finish test requirements when used over Premium Polyurethane Sealer providing excellent chemical resistance, moisture resistance and scratch resistance. It catalyzes at an easy to use 2:1 ratio and is ready to spray immediately after catalyzation without reduction. This product has a 3 hour pot-life after catalyzation.
Our low VOC and "green" options:
SHER-WOOD KEM Aqua Plus Water Reducible Clear Finish

is a high quality, water reducible, self-seal clear. It contains a UV absorber to significantly reduce natural wood discoloration due to sunlight. It has excellent mar/ scratch resistance, block resistance (the capability of a finish, when applied to two surfaces, not to stick to itself upon contact when pressure is applied e.g. good block resistance helps keep a door from sticking to the jamb), and print resistance (the ability of a finish to resist taking on the imprint of an object that is placed on it e.g. a shelf, table, window sill, or counter top with books, dishes, and other objects on them). It also has very low VOCs (volatile organic compounds) and no reportable VHAPs (Volatile Hazardous Air Pollutants) making it a greener option.

SHER-WOOD KEM Aqua® Plus White

is a high quality water reducible pigmented white for finishing furniture, cabinets ( NAMED SHERWIN WILLIAMS Kitchen Cabinets ), and a wide variety of novelty items. This high quality topcoat provides excellent appearance and performance over SHER-WOOD® KEM Aqua® Plus Surfacer.

Sayerlack® Hydroplus™ Waterborne White Topcoat

is a self-sealing acrylic polyurethane coating system that can be used as is, or catalyzed for enhanced performance properties. For interior wood products, this coating provides a durable finish with very good film hardness and good resistance to common household moisture and chemicals typical of residential kitchen environments. When properly applied, this coating meets KCMA test requirements for finishes as is or catalyzed. This coating system is UL GREENGUARD Gold Certified for low chemical emissions and is lower in odor compared to it's solvent borne counterparts. Typical end uses include SHERWIN WILLIAMS Kitchen Cabinets, Residential Furniture and Architectural Woodworking.